All modern handguns have three basic groups of parts.
Action: The action, also known as the trigger group, contains the parts that fire the cartridges. Several types of actions are used in modern handguns.
Frame: The frame is a metal housing that also serves as the handle (grip) of the Firearms. All other parts are contained within it or connected to it.
Barrel: The barrel is the metal tube that the bullet travels through. The handgun barrel is much shorter than a rifle or shotgun barrel because the gun is designed to be shot while being held with one or two hands, rather than being placed against the shooter's shoulder.
Most Firearms have similar parts, pictured below are the parts that one would find on a rifle.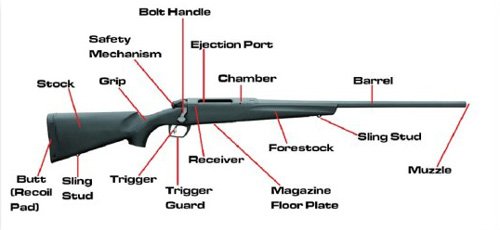 Shotguns are a type of firearm that fires shells containing either shot (small round pellets) or a slug (a solid projectile). Below are the parts of a common pump-action shotgun.
Handguns are handheld short-barreled firearms. The picture below shows the common components found on a pistol and a revolver.
Breakdown of the basic components of a Firearm.
Bore: The bore in the inside of the buns barrel through which the projectile travels when fired.
Breech: The Breech is the area of the firearm that contains the rear end of the barrel, where the cartridge is inserted.
Cylinder: The Cylinder is the part of a revolver that holds cartridges in separate chambers. The Cylinder of a revolver rotates as the gun is cocked, bringing each chamber into alignment with the barrel.
Grip: The Grip is the portion of a handgun that's used to hold the firearm.
Hammer: The Hammer on a revolver is the part that strikes the firing pin or the cartridge primer directly, detonating the primer which discharges the gun.
Magazine: A Magazine is a spring-operated container, that can be fixed or detachable, which holds cartridges for a repeating firearm.
Muzzle: The muzzle of a gun is the front end of the barrel where the projectile exits the firearm.
Trigger: The Trigger is the lever that's pulled or squeezed to initiate the firing process.
Trigger Guard: The trigger guard is the portion of a firearm that wraps around the trigger to provide both protection and safety.
India's First Gun Accessories Online Shop:- www.Gizmoway.com
Concealed Carry Belly Band Holster