Super Glow Paint for Gun Sights, 2.3ml small Glow-On® GREEN
Out of stock
Compare
Description

Serious glow paint for firearms gunsights and other small projects.
Glow-On® is a registered trademark of Glow-On Inc.
Glow-On is the most popular glow paint for gun sights in the United States.
The golden standard in glow paints. 
——————————————————————————————————————————————————————–
Go with the glow, go with Glow-On
Glow-On GREEN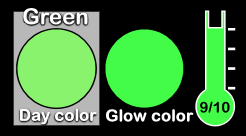 Description of contents:

Package contents:
– 2.3 ml vial with concentrated glow in the dark paint.
– 1 Instructions sheet.
– 1 applicator.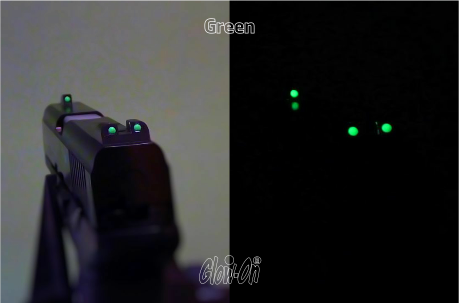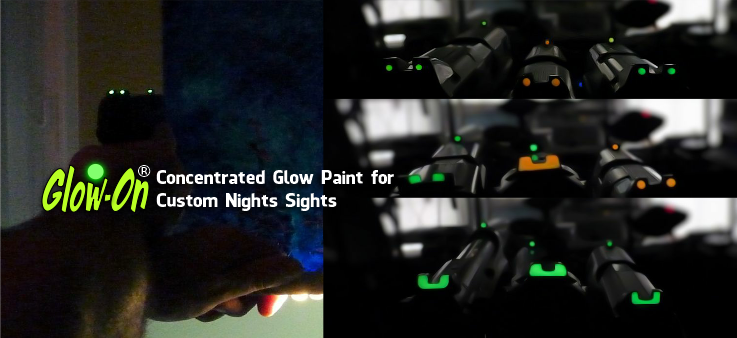 Go with the Best, Go with Glow-On Super Phosphorescent

Concentrated glow paint for firearms, fishing lures, small electronics and tools, scale modeling, etc.
Non-toxic, non-flammable, non-radioactive.
Permanent, waterproof and heatproof after it dries and cures it acquires a solid consistency.
This product is opaque, covers dark surfaces, self-priming and permanent.
The application is a very simple procedure.
Practice on a random surface first.
If it begins to look worked out, just wipe it off with a wet paper towel and start again.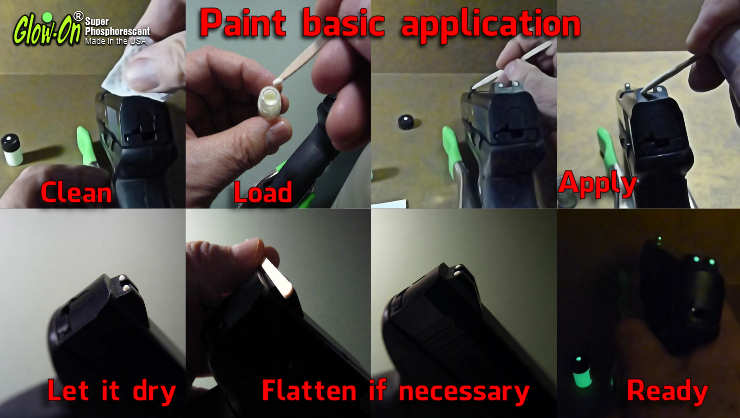 Premium 0.8 mm Glow Film along with repositionable adhesive for firearms and small electronics.
General use: The glow film works great at home, in children rooms, over light switches and such
Firearms use: Cut the film to fit your gun sights, remove the adhesive layer and use 'super glue gel' for a permanent adhesion. 
This film reacts to light immediately by emanating an intense glow.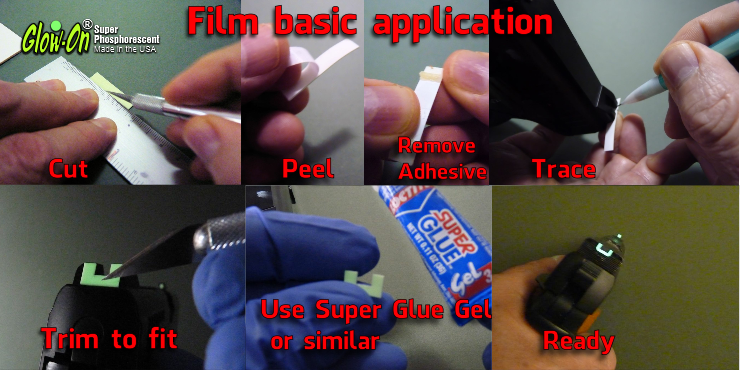 -How this works:
Paint and Film capture light and it releases it slowly in the form of glow.
You'll be able to align your gun sights with the intended target in low light conditions
We recommend the use of a tactical lamp.
Consult your local gun range for gun safety training.
A great fallback strategy if the batteries in your red dots and lasers die unexpectedly.
An affordable solution for more expensive upgrades.
A true do-it-yourself approach.
Use the same sights, no need for pricey replacements.
It can be used along with tritium.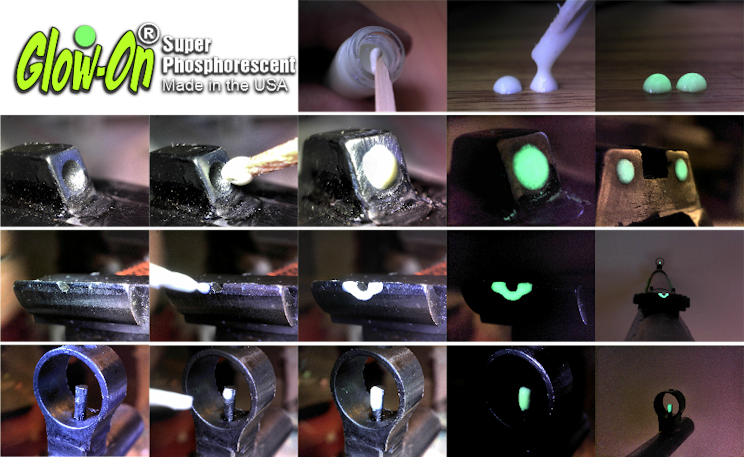 -How long will this product last?
The glow cycle can be repeated millions of times for the life of the product.
The paint and film are permanent.
The half-life of the glow 15 years.

-How can I remove this product from my firearm?
Soften it with some acetone first, then remove by pushing it with the wooden back of a thin brush.